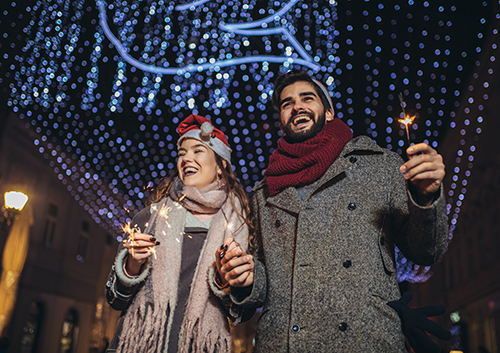 Why are New Year's resolutions so often negative? A depressing reminder of things-you-should-be-doing-but aren't. A new set of rules-that-must-be-obeyed. A nagging list of changes you should make right this very . . .
No! That's no way to start the year! Let's make your resolutions for the New Year a positive, proactive guide to help you achieve your goals for the next 12 months. And high on that list? Creating a beautiful, healthy smile.
If you are working with Dr. Anthony Bisconti to improve the alignment of your teeth and bite, here are some easy, affirmative resolutions to make sure your treatment stays on track.
Brushing is always important. That's why we recommend brushing at least twice a day, at least two minutes each time. But when you wear braces or aligners, brushing regularly is even more important.
After every meal and every snack, food particles collect around brackets and wires. If you wear aligners, food particles on and between the teeth can end up trapped there.
No one wants more opportunities for cavities to develop, so follow our advice on brushing and flossing around your braces whenever you eat a meal or snack, and be sure to clean your teeth before replacing your aligners.
Brushing carefully is important not just for preventing cavities, but for a brighter smile. And while you want a whiter smile, what you don't want is white spots on your teeth. These discolored spots are caused by decalcification. What's decalcification, you ask?
Bacteria and plaque stick to our teeth, and, when not brushed or flossed away, produce acids which eat away at minerals in our enamel. In places where minerals such as calcium and phosphorus leach out of the enamel, a white spot on the tooth appears. Left untreated, these weakened areas can develop into cavities.
Avoid having to deal with this discoloration when your braces or aligners are removed by careful brushing and regular professional cleaning.
If you play sports or live an active life, you might already be using a mouthguard. Good for you! Mouthguards have prevented countless injuries. Now that you have braces, talk to Dr. Anthony Bisconti about whether a custom mouthguard is a good idea.
If you have braces, brackets and wires can come loose. You can reduce the chances of that happening by following our instructions on what and what not to eat, and by brushing thoroughly-but-gently with a soft-bristled toothbrush.
If you have aligners, follow the manufacturer's instructions for caring for them. Exposing them to heat, or eating with your aligners in, or not keeping them in their case when you're not wearing them, can cause warping or breakage.
If you have a retainer, always make sure it's in its case when it's not in your mouth.
When you visit our Youngstown, OH office, ask us about better brushing tools and techniques, so once your braces or aligners come off, you'll have a bright, beautiful, healthy smile as the reward for all your hard work.
Dr. Anthony Bisconti will give you precise instructions on when and how long to wear your bands or your aligners. Failing to put in the hours now means that you will have to spend more time in treatment later. And, of course, make sure you keep all your orthodontic appointments.
Resolving to follow our advice can bring you a healthier, happier smile before you know it. Positive goals lead to positive results, so let this be the year that your proactive resolutions lead to a lifetime of beautiful smiles.